Types of Vehicle Car Plates in Singapore
Under LTA (Land Transport Authority) regulations,
Every vehicle in Singapore must have a VRN (Vehicle Registration Number) displayed on the vehicle number plates.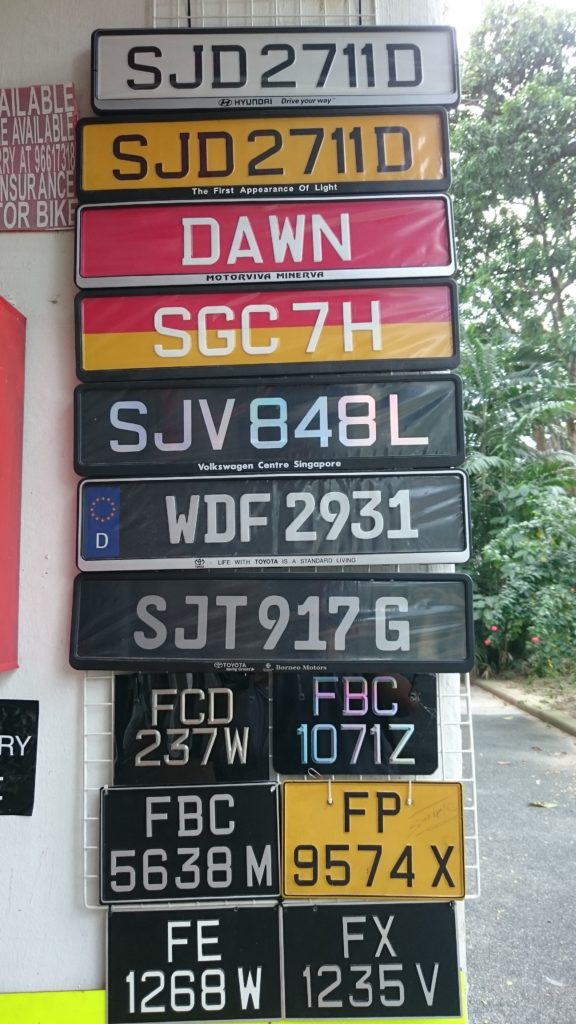 Typically, the prefix "S" which simply means Singapore, plus adding a suffix letter (after "S") ranging from S 'B' to S 'Y' for motorcars, while reserving some letters such as S 'A' (for motorcycles), S 'H' and S 'Z' (for taxis and buses), S 'D' (for municipal vehicles), and S 'G' for commercial goods vehicles basically.

A checksum letter (after the number) was subsequently implemented, to serve as a check by legal authority against false plates, etc.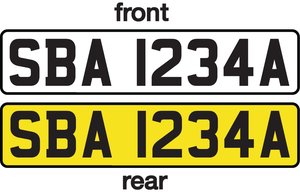 Example of some interesting car plates in Singapore
*Source: Wikipedia.sg

Pulau Ubin vehicle registration plate
SBS Transit bus registration plate scheme
Singapore Elected President
Emergency and law enforcement
Singapore Police Commissioner
LTA: Land Transport Authority enforcement officers' vehicles.
MID: Singapore Armed Forces vehicles (this is a suffix with up to five digits before it, e.g., "12345 MID"). "MID" originally stood for the Ministry of Interior and Defence. General ranks in the armed forces are provided with staff cars with two-digit MID plates.
MP: Vehicles operated by the Singapore Armed Forces Military Police Command. This series may conflict with the Malacca series. (SAFPU plates were formerly used)
NZ: Vehicles of New Zealand diplomats and Installations Auxiliary Police Force (ANZUK).
PU: Tax-exempt, restricted for exclusive use with permission on the island of Pulau Ubin
QX: Emergency and law enforcement agencies (Singapore Police Force, Singapore Civil Defence Force, Immigration and Checkpoints Authority, etc.)
QY: Quasi-government agencies and statutory boards
RD: Research and development vehicles (such as electric, fuel-cell and smart car rental vehicles). This series may conflict with Perlis number plates.
RU: Restricted Use vehicles, a special category for vehicles for which road taxes are not paid. A vehicle with such a licence is restricted for use within certain areas, for example a pushback truck within the grounds of Singapore Changi Airport or shuttle buses on Sentosa island and other southern islands of Singapore.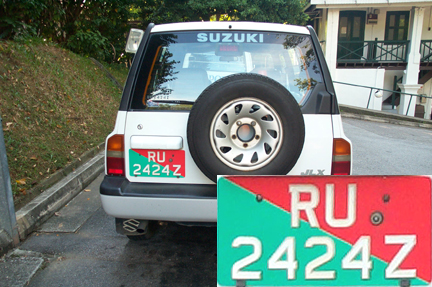 Special prefixes were used for specific events, such as: