S$25 Tower Beer & Cheap Western Food !!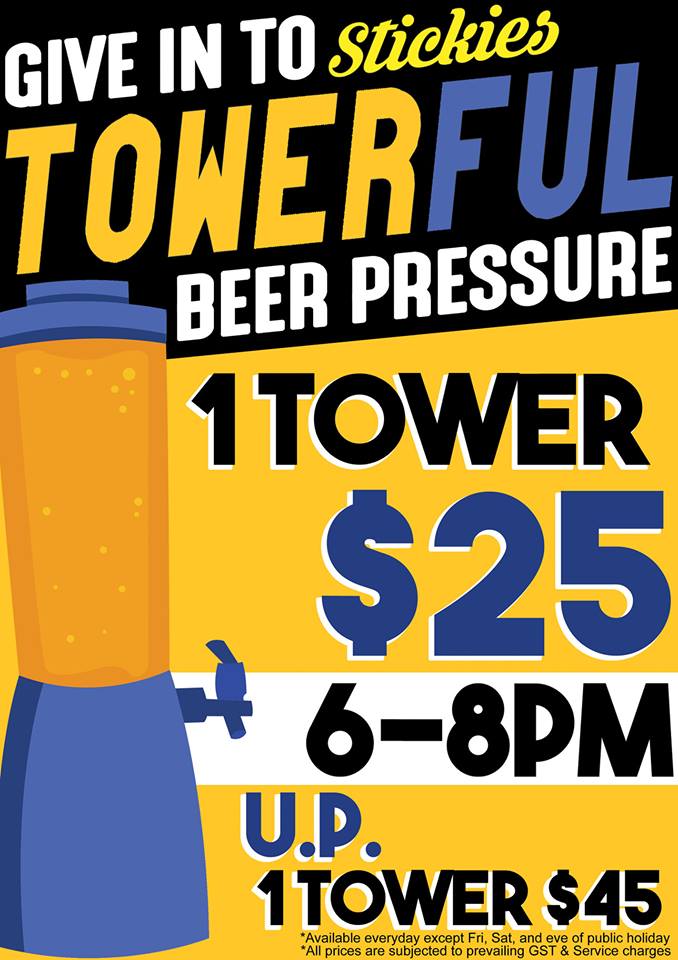 Have you ever see a S$25 BEER TOWER in Singapore?! (U.P.: $45/tower)
Get your beer fix at such an unbelievable price ONLY AT STICKIES BAR! 🍺
They serve QUALITY IMPORTED BEERS; choose from Steinlager (from New Zealand), Hahn SuperDry (from Australia), and Carling (from UK)!
To all the Foodies, you have got to try their Flamelicious Spicy Chicken Burger or Quesadilla that is sure to satisfy all spice-lovers or have a go at our popular home made pizzas and scrumptious small bites!

On top of all that, they have some of the friendliest and energetic staff, Stickies Girls (IG: @stickiesgirls), ready to provide you with quality customer service to enhance your drinking and dining experience.
(PS: Do check out their food menu for recommended food items that you will absolutely love!)
Not forgetting all their ongoing attractive promotions and offers…
Outlet Locations:
Keng Cheow • Sunset Lane • Tagore Lane • Lounge @ Keng Cheow
Website: www.stickiesbar.com

Operating Hours: 12pm – 12am

*Note: No consumption of alcoholic drinks by any person below the age of 18 years.