Food Review: i.Jooz Fresh Orange Juice Vending Machine
Vending machines in Singapore are really getting popular nowadays, with many variations and types to choose from! Due to the fact that it's fully-automated, there is no need to place any manpower to operate the machine, therefore, it's more convenient, cost-effective, and even 24-hours accessible!
Recently, I chanced upon an "i-Jooz" fresh orange juice vending machine, located at IMM, and tried their S$2 Festive Season Promotion!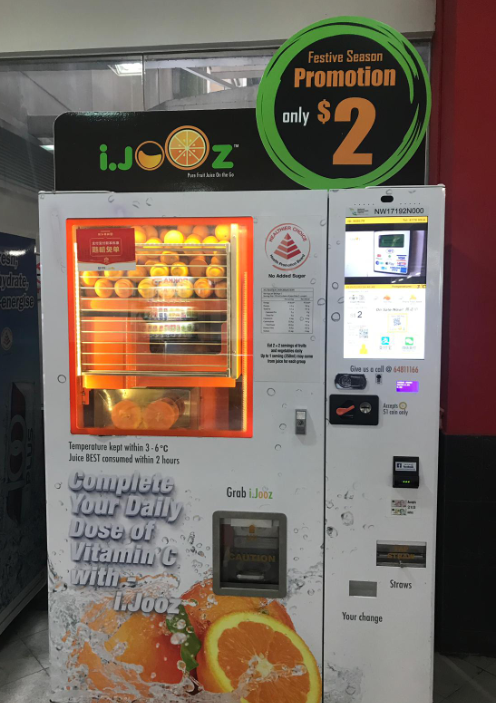 .
My first impression of the vending machine is it's really clean and looks very high-tech for a juicer! 🙂

The vending machine came with a large LCD display, with clear instruction of the mode of payments available, the current date and time, and even the current temperature in the machine compartment!

There is even a "NEA" certified sticker (with licensee number) clearly displayed, together with the vending machine ID number and contact number that you can call if you faces any issues or problems.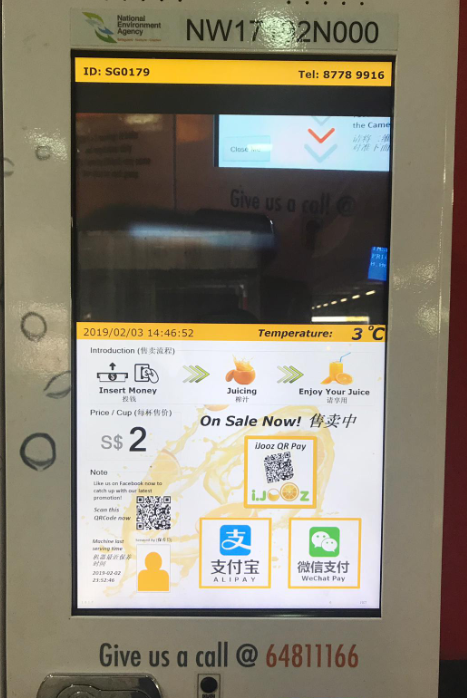 .
I never really fancy any type of juices from vending machine, as first of all, it is not clean (as no one is washing it), and you cannot be sure if the fruits are indeed fresh!

However, when I saw the Festive Season Promotion of S$2 for a cup, immediately, I took out my wallet and insert a S$2 note without any hesitation! Just to try it 🙂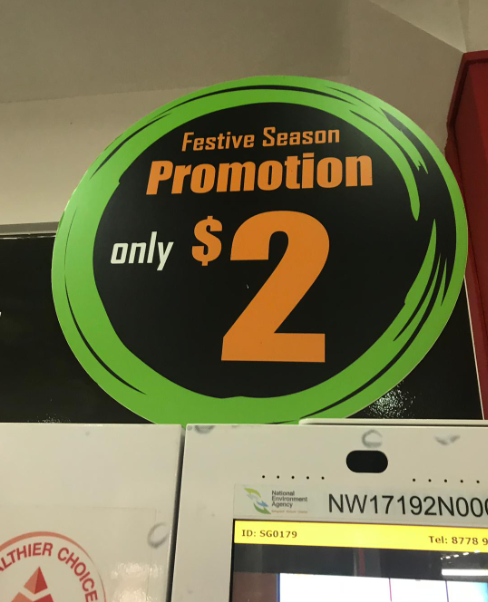 .
With the large glass display, you can really see for yourself how fresh are the oranges, before the machine cuts it into half, and rotate it into the juice crusher.. it is quite fun watching it, I must admit 🙂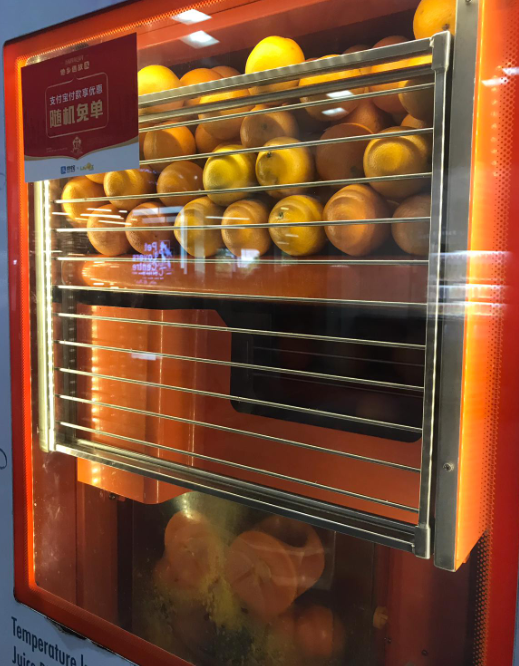 .
The vending machine even display the "nutrition information" of a typical serving (which is a standard cup), with NO ADDED SUGAR, which is definitely a "Healthier Choice" for most people 🙂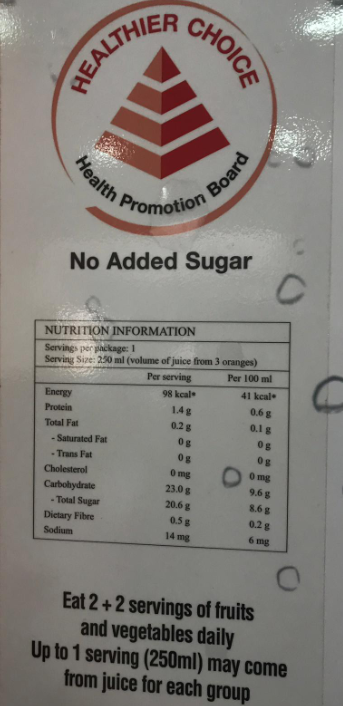 .
The LCD display will update you on the status of your order, making sure that you know when your juice is ready…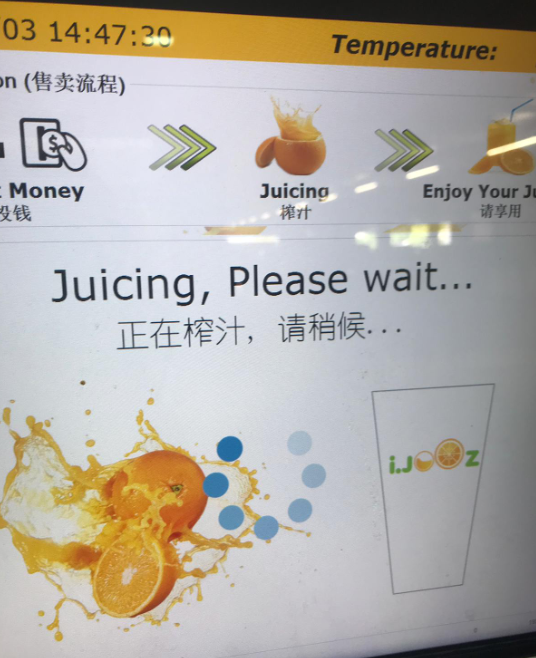 .
After about 1-minute plus, the freshly crushed orange juice is finally ready!

It's nicely sealed in a "paper" type of printed cup, which is kind of "Environment-Friendly" 🙂

The orange juice is slightly chilled, but it's not really cold, as there are no ice cubes in it..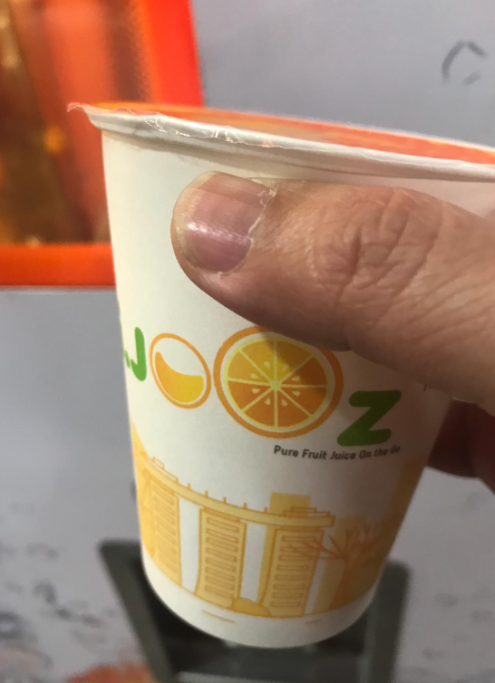 .
The straw dispenser is cleverly hidden at the bottom right side of the vending machine.

Customer needs to raise the plastic flap, in order to gain access to a lever.. once you press on it, a straw will be released from the enclosure.. This is really a hygienic way of storage and dispensing of drinking straws 🙂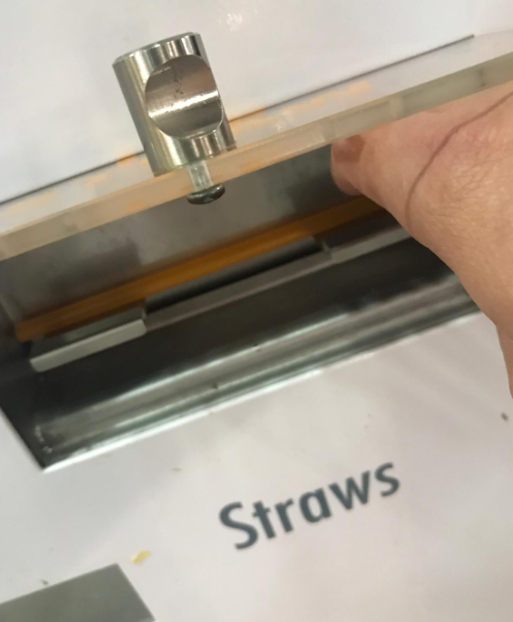 .
Overall, the vending machine is convenient, clean and really easy to use for most people.

The promotional price of S$2 is really attractive and worth to drink, especially during hot days in Singapore!

However, if the vending machine were to increase their price further (back to their usual price), I don't think I will go for it anymore, as there are still other cheaper alternatives available elsewhere.
Reviewed by the "Crazy Foodie"
| Score: ( 3.5 / 5 ) Stars |
Disclaimer: This is an independent review done by an individual without bias or any adverse opinion against the operator or establishment.