Sentosa is organizing Singapore's first-ever Pokémon GO Safari Zone and hosting Pokémon Go trainers around the World this coming April 2019.
Experience Pokémon GO at Sentosa™
The State of Fun.
Details as Quoted on Official Website:

Pokémon GO Safari Zone, Sentosa™ is a marketing event organised by the Sentosa Development Corporation free-of-charge to be enjoyed by all Pokémon GO trainers.

Trainers from all over the world will gather on Sentosa, from 18-22 April 2019, for Singapore's first-ever Pokémon GO Safari Zone

Taking place across The State of Fun, from the Sentosa Boardwalk to Tanjong Beach, Pokémon GO Safari Zone, Sentosa will see players hunting their favourite Pokémon including some that do not often appear in Singapore, or even Southeast Asia such as Shiny Shuckle, Tropius, and more!

Attendance is restricted to ONE DAY per person. Those who attempt to attend multiple days will be rejected, and their tickets may be voided.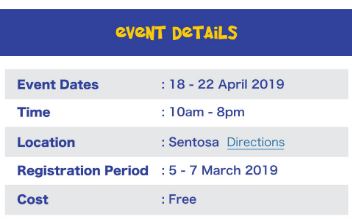 Registration starts 9AM, 5 March 2019. Register by 23:59, 7 March 2019 for your chance to receive a ticket. If you are successful, you will be notified on 11 March 2019 via the email that you registered with.

Be sure to make plans early to ensure you obtain transportation and accommodations for the event.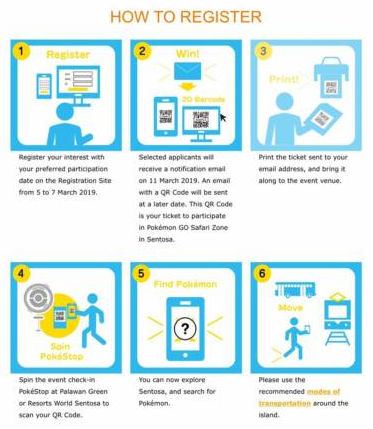 Here are the steps to register.. (*see above)
For more details, check out Sentosa's Pokémon GO Safari Zone event webpage HERE.
What are you waiting for? See you there!

Gotta Catch 'Em All !!