Addiction Pillow, Does It Work?
Does this $48 pillow really improve your sleep quality?

If you are an avid Facebook or Instagram user, you may have come across advertisement on the Addiction Pillow where it is demonstrated that eggs that are put between these pillows won't break even with a full-grown adult standing and jumping over it.

The Addiction Pillow is from a Korean brand called BodyLuv and is retailing from its official website as well as several other online platforms such Qoo10 for $48. It is recommended for people who are worried about their face touching the pillow, people with issues relating to neck and shoulder stiffness and pain, and anyone who basically wants a good night sleep.
The Addiction Pillow is almost shaped like a pebble, and comes in either dark or light grey measuring 55cm in length and 33cm in width.  In comparison to our regular pillow, it is a tab smaller in dimension.
Instead of the usual cotton, polyester or latex filling, the addiction pillow is filled with purportedly 8,000,000 micro air balls in a 3D ergonomic design.  Its special ergonomic shape is meant to achieve the ideal comfortable height position for our neck and head support in order to alleviate a common issue of head and neck stiffness faced by many these days.  It is claimed to be suitable regardless if you are back sleeper, side sleeper or even stomach sleeper.
According to its official website, the filling of micro air balls allows the height of the pillow to be adjusted and its height will also change depending on the pressure exerted on it while you are lying on it.  Hence, it achieves a perfect balance between overly soft pillows which offer almost no support for your neck and head as well as overly hard pillows on the other spectrum.  Instead, it will mold to fit and stabilise your head, neck and shoulders and evenly distribute weight and pressure from your body, thereby preventing muscle strain.
With a constant nagging stiff neck and sore shoulder, we decided to try out the BodyLuv Addiction Pillow to see if it really does work its magic in improving our sleep quality and alleviate our sore muscle.
We opted for the light grey pillow and each pillow comes with a free colour matching pillow case and washing net.  It sure do look like a big piece of pebble, even more so due to its colour. 

The exterior material of the pillow and its pillow case was smooth and slightly stretchable, being make up of a mixture of polyester and polyurethane.  The feel of the pillow against the skin sure feels nice and cooling, almost like satin. While the pillow is filled with supposedly 8,000,000 micro balls, it does not feel anything like lying on a bean bag. 

You could still feel the mini balls if you squeeze the pillow but you would not be able to feel any of the beads when you lay your head on it.  There was also no squishy sound as you toss and turn on it.
This is how it looks without the pillow case, in comparison to having the pillow case on.  The size of the pillow is comparatively smaller than the regular pillow but it was still a good size for my petite frame.
The density and height of the pillow seem to increase once the pillow case is putted on. 

It might be due to the fact that the pillow case is quite fitting, as in tight-fitting or skinny cut if you compare that to our jeans cutting as a gauge.  The regular pillow case would be much too baggy and loose for the Addiction Pillow. For those who are accustomed to low pillow, it would be advisable to start off by using the pillow on its own without the casing till you have get used to the height. 

To prevent your saliva from seeping through directly into the pillow, you can consider placing a spare pillow case over it instead.
We tried out the pillow without the pillow case for the 1st 3 nights.  It did feel weird initially as I have never used a support pillow prior to this.  However, there was no issue in falling asleep and I would have to attest that as a side sleeper, the 2 bumps at the side of the pillow serves as a really good support for the face to rest into.  My sore neck and shoulder had a remarkable improvement overnight.  While it did not dissolve the pain entirely, it was indeed a huge improvement.
After using the pillow for 3 consecutive nights, I tried out the pillow with the pillow case on it. I could feel that the overall height of the pillow was increased, or it could also be attributed to the fact that the pillow case was packing in the pillow into a more confined space (a size 26 girl trying to squeeze into a size 24 pair of skinny cut jeans) and it became denser. It was definitely more comfortable for me to have the pillow without the casing. While it did not cause any sore muscles due to its density, I woke up at times in the middle of night as it was causing some discomfort in the sense that it feels like I was lying down on a big piece of rock.
With its price tag of $48, the Addiction Pillow sure does not come cheap.  In terms of alleviating sore muscles, it did help in my case, though not 100%.  It is definitely a good option to consider if you do not mind the cost and has been battling with sore muscles with no avail for long period of time.  Moreover, it would not fall flat as easily as a normal pillow and I really love the soft cooling satiny feel of the pillow against my face.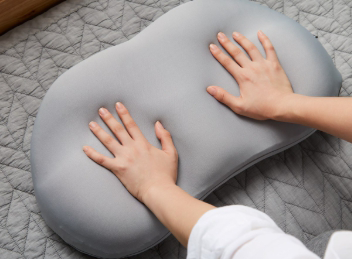 Another winning point is that the pillow can be washed in its entirety, as in the whole pillow can be washed! The special coated micro beads ball inside the pillow does not absorb water, making washing easier. This does sound like a good idea, as we can be sure that our pillow is not 100% clean even though we may be using a pillow case and even a pillow protector beneath the pillow case. Our perspiration in Singapore horribly humid weather, our saliva while we drool in our dreams, our night cream and leave-on overnight facial mask are definitely leaving their marks on our pillow. While the pillow protector and casing can be washed, we would hardly wash the pillow itself knowing the tedious process. The germs and bacteria that are trapped in our pillows are better left not explained.
If you are interested in getting one to try out, you may like to find out more information from their official website below:

Bodyluv Addiction Pillow

.