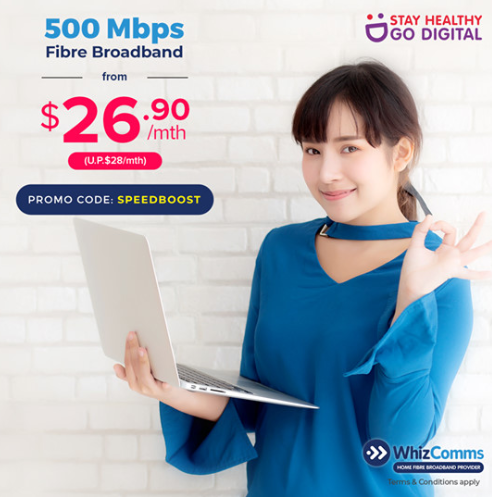 Singapore's Lowest-Priced Fibre Broadband Plan is HERE~
Enjoy FREE Speed Boost to 500Mbps without additional cost!
WhizComms has stood out to offer the Lowest Priced No-Frills Fibre Broadband service in town every day!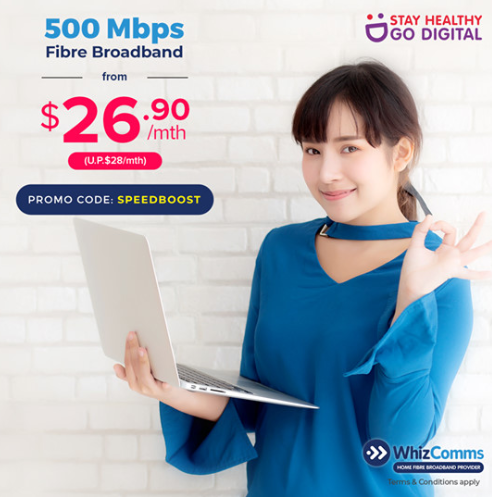 Now, simply subscribe to 300Mbps No-Frills Home Fibre Broadband to enjoy these exclusive perks:

✅ Enjoy Free SpeedBoost to 500Mbps Fibre Broadband Plan.
✅ FREE Activation Fee, worth $53.50
✅ FREE Weekday (9am-6pm) Delivery & Installation, worth $53.50
✅ Purchase TP-Link (C7) AC1750 Dual-Band Wireless Router at only $78 Nett (U.P $98)
✅ NLT Service Activation Fee of $56.71 applies.

Promo Code: SPEEDBOOST500
More Details & Sign-Up HERE:
 https://goo.gl/KqstTS

*Terms and condition apply.
Free speed boost to 500Mbps promotion is valid for customers who sign up for any 300Mbps plan.
Speed Boost will take effect 4-6 weeks after installation.
All prices stated are inclusive of 7% GST.
This promotion is applicable to new subscribers only.
WhizComms' service activation fee of $53.50 is waived.
NLT Service Activation Charge of $56.71 will apply for every new NLT Fibre port activation.
For subscription to the 24-mth plan, the customer will enjoy Free Delivery and installation services. $18 Delivery and installation fee is applicable for subscription to the 12-mth plan. Both are available on weekdays (9am-5:30pm), excluding public holiday.
Installation of fibre broadband service within 1 month from the date of order received.
General terms and conditions apply.
ABOUT WHIZ COMMUNICATIONS PTE LTD:

Whiz Communications Pte Ltd is established as a service provider with an objective of providing communications services at the lowest price, highest quality and shortest contract. Effective communications have become synonymous in every consumer's lifestyle. Knowledge and wisdom relies on constant and productive communications. This company understands the importance of communications to benefit productivity. Its philosophy is to provide best of breed and reliable communications services at an affordable price that is easy to subscribe, fast to implement and simple to use.