Fine For Not Returning Your Trays from 1 September 2021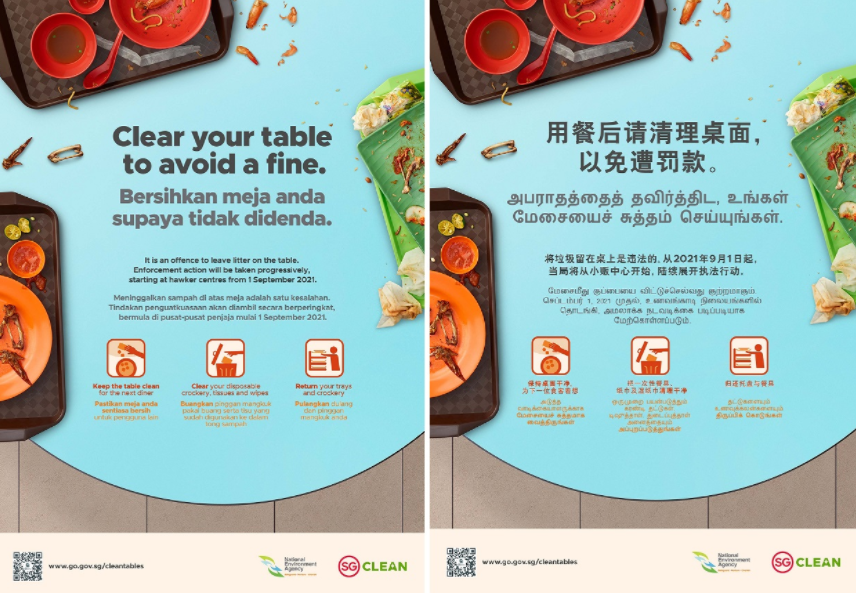 National Environment Agency (NEA) will step-up advisory stance for table littering offences and enforce against non-compliance at hawker centres from 1 September 2021, and work with SFA to progressively roll out enforcement to coffeeshops and food courts.
Starting Sep 1, you can be issued warning or a fine if you don't return your tray and used plates after a meal at the hawker centre.

Posted by CNA on Tuesday, June 22, 2021
The National Environment Agency (NEA) has been reviewing the approach to table cleanliness at public dining places and will require diners to clear tables of dirty trays, crockery and litter after their meals, starting at hawker centres from 1 June 2021.

Over the years, we have conducted extensive educational efforts, including launching the Clean Tables Campaign early this year, to change behaviour and mindsets of diners at public places.

The COVID-19 pandemic has underscored the need for all of us to maintain high public hygiene and cleanliness standards. Various members of the public and institutions, such as the Public Hygiene Council, have called for stronger levers including legislation to raise table cleanliness standards at public dining places.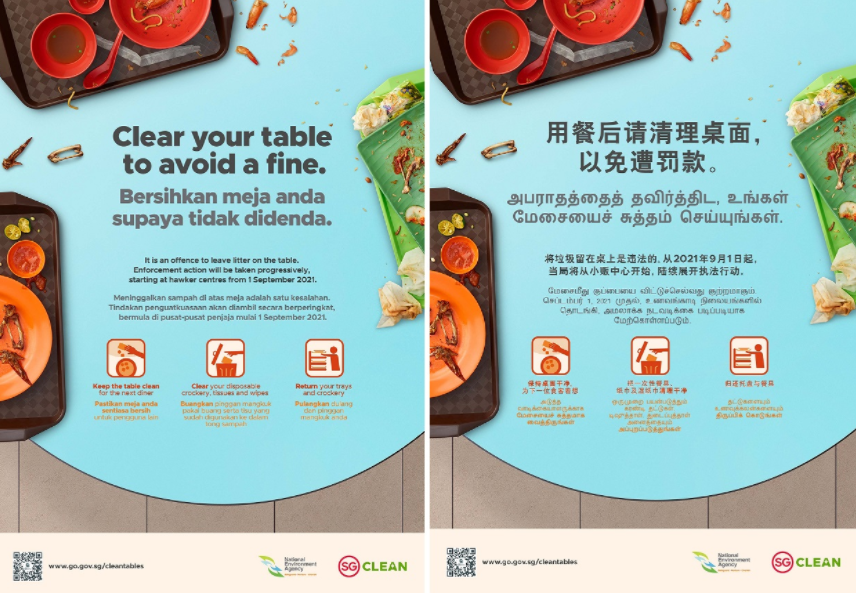 Leaving litter on dining tables is an offence under the Environmental Public Health Act
2          To strengthen resilience in environmental public health amidst the COVID-19 pandemic and beyond, NEA urges the public to practise good hygiene at our public dining places so as to protect other diners and cleaners, many of whom are also seniors.

With effect from 1 September 2021, NEA will take enforcement action against diners at our hawker centres who leave behind their dirty trays, crockery and litter, such as used tissues and wet wipes, straws, wrappers, canned drinks, plastic bottles and food remnants in public dining places (see Annex A for Q&As on NEA's enforcement approach).

The Singapore Food Agency (SFA) will also work with NEA to roll out enforcement progressively at coffeeshops and food courts in the fourth quarter of the year.

NEA is not enacting a new law, as leaving litter on dining tables is enforceable as a littering offence under Section 17(1) of the Environmental Public Health Act (EPHA). However, NEA will take a pragmatic posture, such as enforcing against diners who do not heed advice by enforcement officers to clear their dirty trays, crockery and litter after dining.
3 To help diners familiarise and adjust, there will be a three-month advisory period from 1 June to 31 August 2021, during which NEA will take an advisory approach and no enforcement will be taken.
Advisory period starting 1 June 2021
4          During the advisory period, Safe Distancing Ambassadors (SDAs), SG Clean Ambassadors, Community Volunteers and NEA officers deployed at hawker centres will continue to remind diners to clear their dirty trays, crockery and litter.

Visual cues such as posters and banners will also be progressively installed at hawker centres to remind diners to clear their tables (see Annex B for sample posters).

NEA is also setting up more tray return infrastructure across all the hawker centres to support diners to return their dirty trays and crockery. While no enforcement will be taken during this period, diners are reminded to comply upon being advised.
Enforcement starting 1 September 2021
5          Enforcement will commence on 1 September 2021 at all hawker centres.

Enforcement officers will continue to advise diners to properly clear their dirty tray, crockery and litter and enforcement will apply to diners who do not heed the officers' advice.

First-time offenders will be issued with a written warning. Subsequent offenders may face composition or court fines.

NEA will monitor the ground situation and make adjustments over time to the enforcement posture accordingly.
Cleaner dining premises through collective efforts
6          NEA launched the Clean Tables Campaign on 6 February to galvanise individuals and the community to do their part to return dirty trays and crockery, and clear and bin table litter such as used tissues and wet wipes.

This shows consideration for the next diner, and allows cleaners to focus on the most important task of cleaning and disinfecting tables. This self-service approach is also a more sustainable way of keeping our dining places safe and clean.

This is especially given the tight cleaning workforce comprising a majority of seniors who may be more vulnerable to diseases such as COVID-19.

The Clean Tables Campaign complements the rolling out of the Environmental Sanitation Regime from mid-2021 and the nation-wide SG Clean movement launched last year to rally businesses and Singaporeans to raise cleanliness standards of public spaces and encourage good personal hygiene habits.
7          While NEA has seen good results at some places, it is not as satisfactory as we would like.

Since the launch of the Clean Tables Campaign, there has only been a nominal improvement in the average Tray/Crockery Return Rate (TCRR), from 33 per cent before the launch of the campaign to the current 35 per cent.

This is despite 76 per cent of the respondents in a survey carried out by NEA in March 2021, indicating that they return their trays and/or dirty crockery most of the time. This shows that actual practice on the ground does not match up with individual espoused behaviour.
8 With only slight improvements being achieved thus far after much effort on education and outreach, a stepped-up advisory and enforcement approach will help raise our public hygiene standards at public dining places, especially during the COVID-19 pandemic.
9          NEA seeks the cooperation of all diners to share the responsibility of maintaining the cleanliness and hygiene of public dining places in Singapore.

This helps everyone to transition to a more socially conscious, self-service concept where diners clear their dirty trays, crockery and litter, and leave behind a clean table for the next patron.

NEA urge everyone to work with NEA to take greater ownership of our public dining places, and to maintain high hygiene and cleanliness standards at these areas. This will allow us to enjoy our meals in a clean and hygienic environment and better safeguard ourselves against any public health risks.
View Full Media Release HERE