Police Workplan Seminar 2019 – A Smart Force for the Nation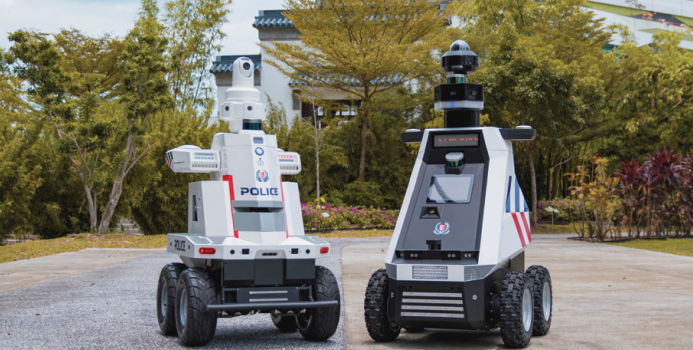 From Unmanned Aerial Vehicles (UAVs) to autonomous robots, the Police Workplan Seminar 2019 featured the latest advancements in policing technologies which will augment the Singapore Police Force's (SPF) crime-fighting capabilities. Such advancements are also crucial for enhancing the productivity and capabilities of frontline officers in mitigating day-to-day situations.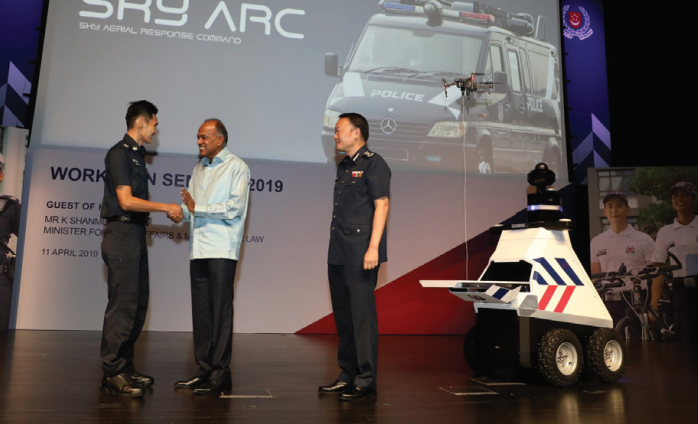 Hundreds of police officers from various units attended the seminar, which was graced by Mr K Shanmugam, Minister for Home Affairs and Minister for Law. Let us take a look at the new technologies and gizmos unveiled this year!
Source: https://www.police.gov.sg
Enhancing Frontline Capabilities and Community Engagement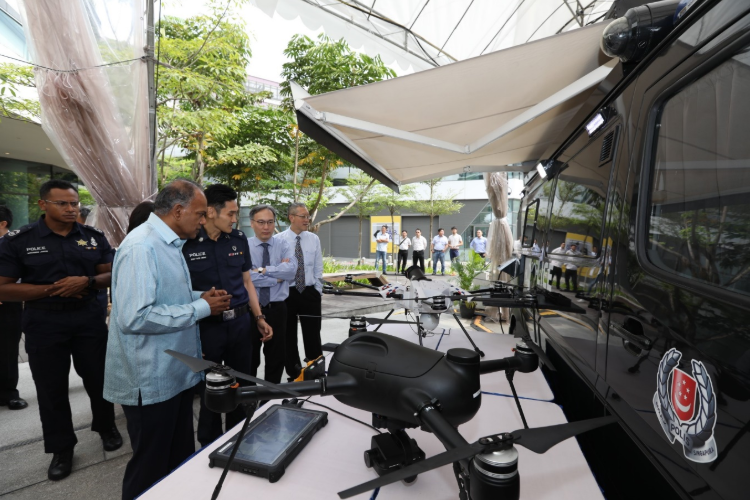 Sky Aerial Response Command (Sky ARC)

The Sky ARC is the SPF's mobile UAV response force that is equipped with a variety of advanced aerial surveillance capabilities. UAVs with different capabilities can be deployed from the Sky ARC to fit the surveillance requirements of different terrains. Aerial situational images and videos captured remotely by the UAVs can also be livestream back to the Police Operations Command Centre. With a centralised command and control and fleet management system, the capabilities of the Sky ARC will enable frontline commanders for better sensemaking and enhance their operational responses. Frontline officers will be trialling the Sky ARC for a year for incident management and pre-planned security events.
Smart Glasses

The SPF is currently experimenting with wearable technology such as the Smart Glasses. These glasses feature a powerful camera with automatic focussing capabilities and 3x zoom for video shooting. It also provides clear vision in all lighting conditions and can be powered up to 10 hours via a mobile phone. With its ability to perform real-time video analytics, Smart Glasses will enhance the operational efficiency of frontline officers. The SPF will deploy the glasses at major security events to validate their effectiveness in supporting frontline officers to fight crime.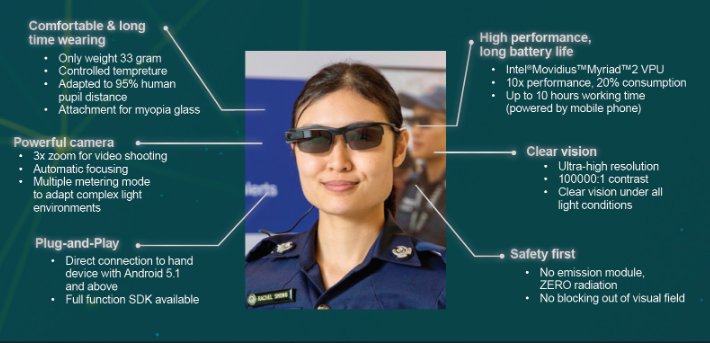 JARVIS

JARVIS is a one-stop screening platform developed by the SPF in collaboration with GovTech. It allows investigation officers to comb through multiple police databases at a click of a button, taking only up to five minutes per search. Before JARVIS, searches for personal information of individuals were done through accessing many individual databases, taking up to almost 20 minutes per search. The new platform was developed and trialled between March and November last year, and is now rolled out to all officers from the SPF investigation fraternity.


Enhancing Robotic Innovations

To further enhance operational efficiency and capabilities of officers, the SPF has also worked closely with its industry partners to explore the use of robotics to automate routine tasks. Through robotic automation, SPF officers can focus on higher-value work such as crime prevention, detection and deterrence efforts.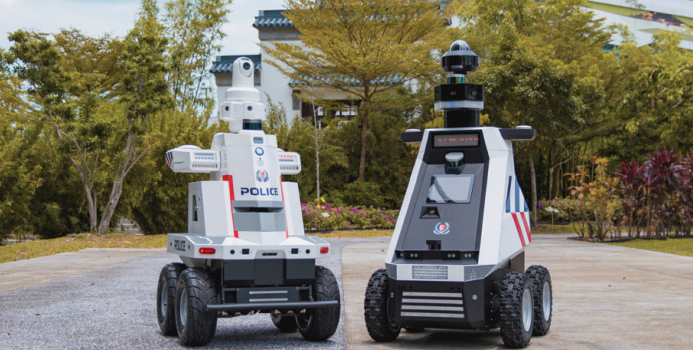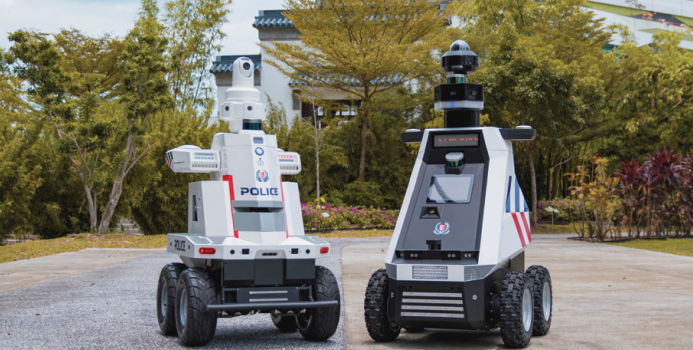 Multi-purpose All Terrain Autonomous Robot (M.A.T.A.R.) 3.0
An enhanced version of M.A.T.A.R. 2.0, the new M.A.T.A.R. 3.0 comes in two variants, each with its unique set of upgrades. One variant, which was deployed at last November's 33rd ASEAN Summit, has an extendable Pan-Tilt- Zoom Camera that can be elevated to a maximum height of two metres to provide surveillance. It also has a two-way communication feature which allows police officers in the forward command post to communicate with people on the ground.
The second variant has a tethered UAV attached to the robot. Once deployed, the UAV can fly up to 30 metres, providing a bird's eye view of the surrounding area. The aerial surveillance capability will provide enhanced situational awareness for frontline commanders to make better decisions and enhance their operational responses. The effectiveness of this variant will be trialled at upcoming security events to assist in monitoring crowds.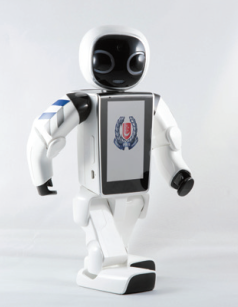 Mini Autonomous School Talk Robot Officer (Mi-ASTRO)

Mi-ASTRO is a miniature humanoid robot which will aid the SPF in strengthening its outreach to preschoolers and students at school engagement talks. Through customised pre-programmed messages, Mi-ASTRO will help to better engage young audiences, improving the awareness and retention of crime prevention messages amongst them.

Enhancing Training Capabilities

The SPF has also leveraged technology to enhance the effectiveness of its training regimes. This includes the introduction of the Impact Measurement Trainer, a new system that will improve the Police Defence Tactics (PDT) training, and the Enhanced Live Firing Range System used during marksmanship training.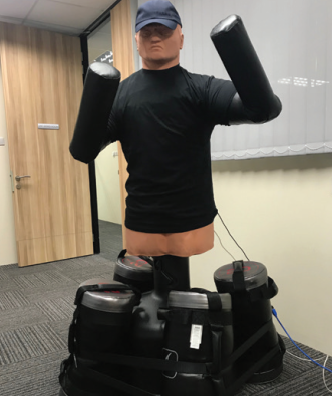 Impact Measurement Trainer (IMT)
The IMT is a new system which will enhance PDT training through the provision of immediate feedback to trainees to help them improve their techniques. Two types of manikins (standing and sitting) with force sensors embedded inside will be used to measure the intensity and location of the strikes by trainees when they execute PDT techniques. The information on their strikes will be immediately displayed on a video panel, allowing the trainee and instructor to examine the quality of the techniques applied. Corrective actions can then be implemented to further improve the trainees' execution by striking the manikin more accurately at recommended hit zones.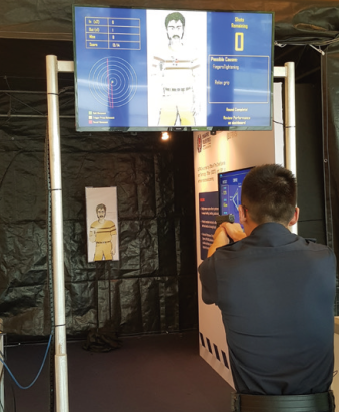 Enhanced Live Firing Range System (ELFRAS)
The ELFRAS is the product of a joint collaborative effort between the SPF and the Office of the Chief Science and Technology Officer to enhance the effectiveness of marksmanship training. It utilises multiple sensors that capture and analyse a firer's performance in relation to various human factors such as weapon handling breathing, posture and gaze fixation.
The Advanced Performance Enhancement and Analysis Range System (APEARS) software embedded in the sensors will then analyse the data collected and provide real-time recommendations to improve the firer's performance. The information captured by ELFRAS, along with its automatic scoring feature, will be displayed on a panel beside the officers.
By Irwan Shah (Photos: Public Affairs Department)
Source: https://www.police.gov.sg
Disclaimer:
This article is shared by The Chilli Padi as a community announcement service for the benefits of public awareness. All copyrights of any information and materials within belong solely to the Singapore Police Force.