Over the eve of Chinese Lunar New Year, several sources reported a group of motorcyclists riding on Malaysia highway, committed several traffic offenses along the way, such as speeding, riding on emergency lane (or expressway road shoulder) and even deliberately masked their bike license plates to avoid being caught on police camera, etc.
The article was shared on a very popular Facebook group in Singapore – "Complaint Singapore", and received a lot of negative comments and reactions!
.
These "hell riders" was subsequently caught by traffic police and escorted to a nearby petrol station, to ascertain their particulars and inspection on all legal documents, etc.
All the caught motorcycles have all their bike license plates masked away by black tape, so as to avoid from being "shot" by police or speed cameras!
An unknown photograph from a police (likely to be) speed gun captured the high speed at 253km/h, which is way above the normal speed limit of 110km/h on most Malaysia highway..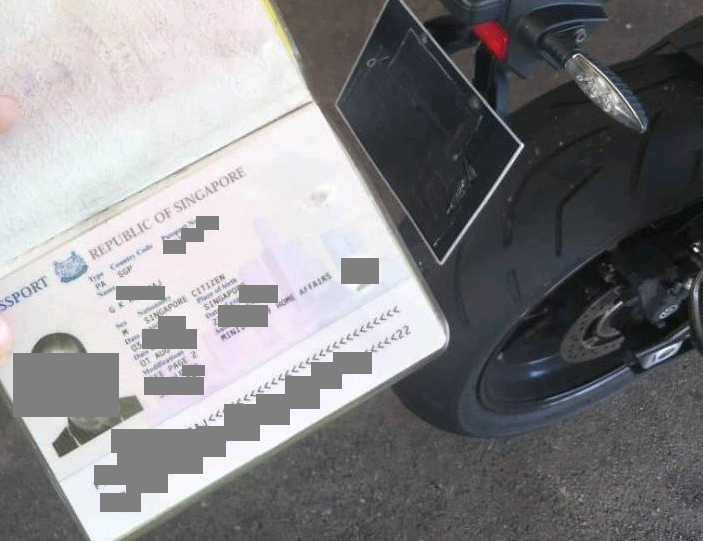 Net Citizen also posted a photograph of a Singapore passport, right in front of a masked license plate motorcycle, likely to belong to one of the offenders caught.
All offenders are subsequently escorted to a nearby Traffic Police office for summon action.
Based a quick check on the reported offenses, it is likely that all involving parties need to attend a State Court hearing session to answer to their charges.
Such irresponsible and inconsiderate motorcyclists pose serious danger to other road users, and should be removed from ALL roads… and also a disgrace to all Singapore drivers and riders!
Do drive safe everyone and be careful always, especially during this festive season!
Note: This article is a collaboration with Complaint Singapore (Facebook Group in Singapore), with expressed permission to publish. All identity of people who posted and commented are censored for privacy purposes.